Top 7 Best Loan Apps In Nigeria
As an individual or a business owner, you may face moments when things become difficult and you will need to hunt for an emergency fund which could be money for personal or corporate purposes. This article will guide you on the top 7 best loan apps in Nigeria to easily and quickly get loans to solve that emergency situation.
In the past, getting a loan in Nigeria was nearly impossible. But today, loans are no longer just provided by the responsibility and reserve of banks but many loan apps now provide quick and easy access to small and medium-sized loans, as well as instant payment, a low yearly interest rate, and a sufficient repayment period.
Recommended >>> 13 Daily Income Business in Nigeria To Make Fast Money From
What Is The Process of Using Loan Apps?
1. Simply, go to your app store and download the app and Install it on your mobile device.
2. Open the app, fill out the registration form with your correct information and any documents required.
3. Your credit score will be calculated, and a loan offer will be sent to you. The loan will be credited to your account once you accept it.
Note, you will be required to repay your loan before or on the due date.
Benefits of Using a Loan App
1. In Nigeria, the majority of loan apps do not require collateral or guarantors.
2. In an emergency, loan apps are really beneficial. All you have to do when you need an emergency loan is open the lending app and apply for one.
3. Majority of lending apps are available 24/7
4. Apps are available on Android, iOS, Blackberry, and Windows Phone
5. There is no need for papers or any legal consent
6. Payment alternatives that are flexible
Read Also >>> 20+ Low Money Business Ideas
Top 7 Best Loan Apps in Nigeria
In no particular order, here are the top 7 best loan apps in Nigeria, that provide financial credit services to individuals, established businesses, and, most significantly, the often-overlooked small-medium enterprises (SMEs);
CARBON
REN Credit
Okash
NEW CREDIT
BRANCH
PALM CREDIT
FAIR MONEY
These loan apps are secure and dependable and can be accessed via a smartphone app. Now, let's take a deeper look at these loan apps and see what each of them has to offer…
1. CARBON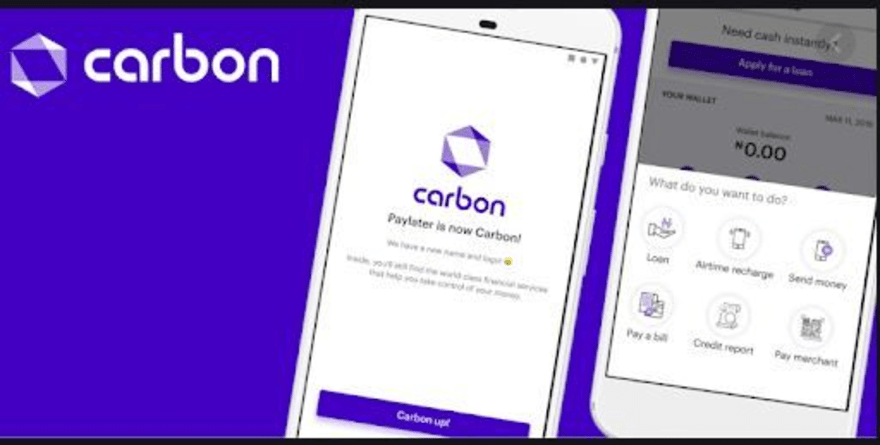 The first on our list of the best loan apps in Nigeria is Carbon. Formerly known as PayLater, Carbon is one of the best loan apps in Nigeria that offer quick loans without having to sign any documents.
Here are the features that set is above others;
This simple lending platform allows you to get a loan in minutes.
It offers short-term loans to assist you pay for unexpected bills or crises.
You can easily seek and obtain a loan without having to provide any documentation.
To determine loan credit, all you need is your bank verification number (BVN).
With this software, you may get up to $20 million with interest rates ranging from 5% to 15%.
The carbon app is available for Android and iOS users in the Google Play Store and the App Store.
Download Carbon loan app: Android – iPhone
2. Renmoney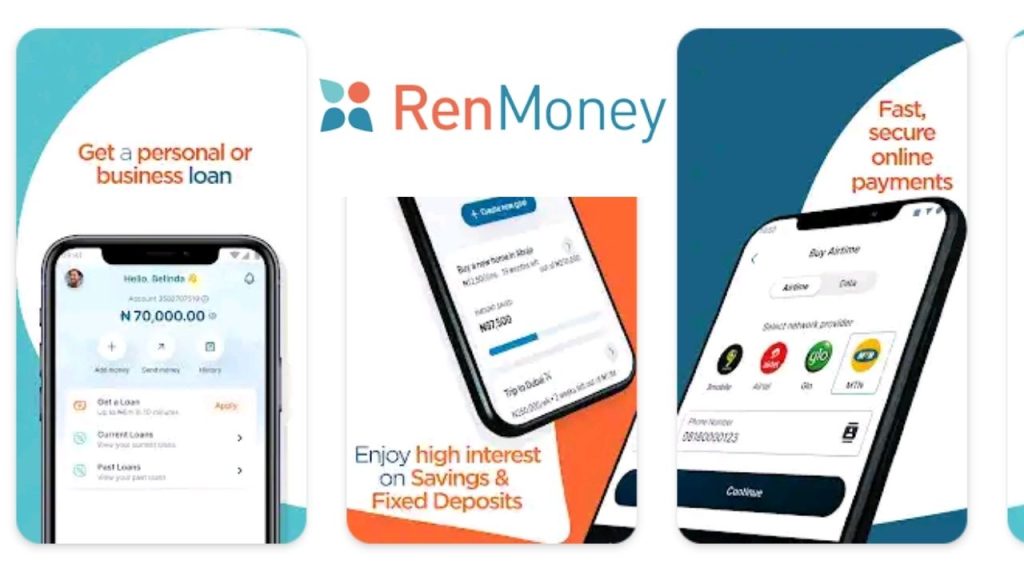 The second app on this list is the popular Renmoney. You might have seen their ads on several platforms if you're active online and there's a good reason why. The renmoney app allows you to borrow up to borrow up to ₦6 million and repay in up to 24 months. But that's not all…
This loan app allows you to borrow huge amount of money ranging from ₦1,000 to ₦6 million.
You have the flexibility to choose when you want to pay back your loans.
They don't disturb their customers with annoying calls even on due date.
Their interest rate is low, with an interest rate of just 10% annually (The longer the duration for repayment, the more the interest rate).
You can apply for a loan and it gets approved within 5 minutes.
Download Renmoney loan app: Android – iPhone
3. Okash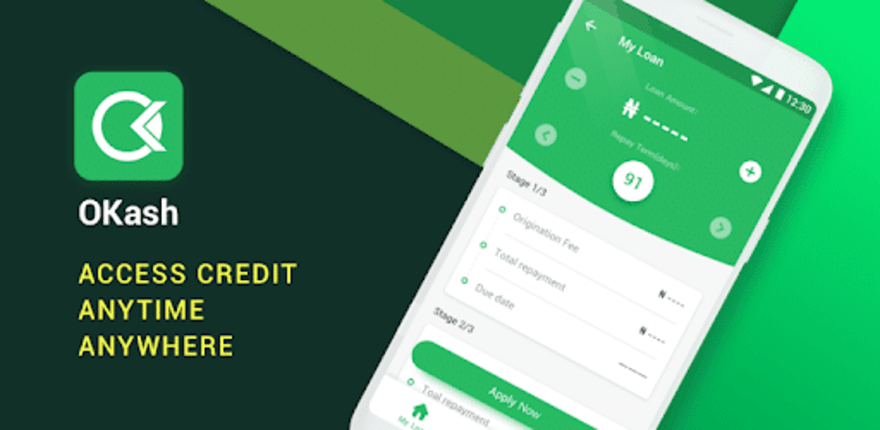 Ranking number three on our list of the best loan apps in Nigeria is Okash. Speaking from a personal experience, I can say that this loan app is very fast and reliable.
The app allows you to borrow from ₦3,000 to ₦500,000 for personal and business purposes.
Your loan will be processed within 10 minutes and you will be credited.
The repayment time for your loan ranges from 91 days to 365 days (depending on your loan).
Okash also has a referral program that gives you a discount on your loan when you refer a friend using your referral link, and the friend takes their first loan.
The app is straightforward and easy to navigate, making it an ideal option for both old and young.
Download Okash loan app: Android
4. New credit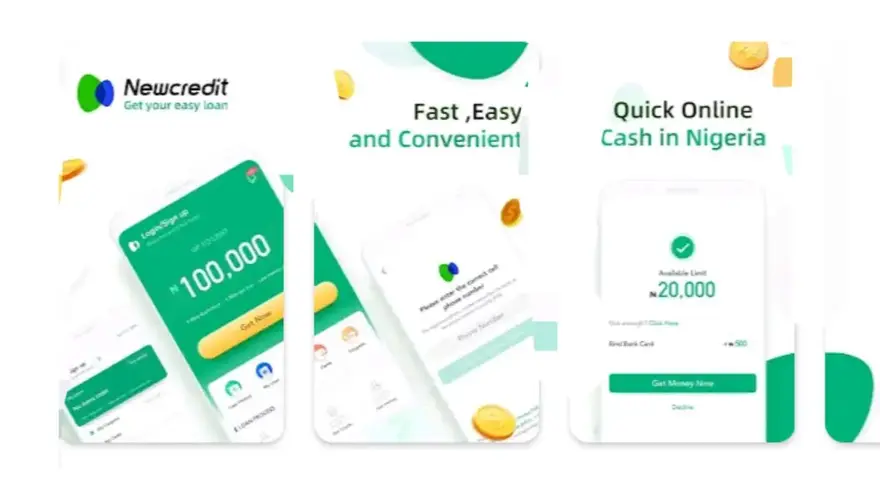 Another loan app on this list that is fast and reliable is the New Credit loan app. This loan app allows you to borrow from ₦10,000 to ₦300,000 and pay back within 91 days to 365 days.
The loan application process is very easy and fast, and within 5 minutes of approval, your loan will be credited in your account.
The app gives you enough time to work for your money and repay the loan with a repayment period of 91 days to 365 days.
Their officials are very polite, and even when you're back on your repayment date, they don't insult or disturb you with calls.
All you need to apply for a loan here is your BVN, and phone number.
Download New Credit loan app: Android – iPhone
5. BRANCH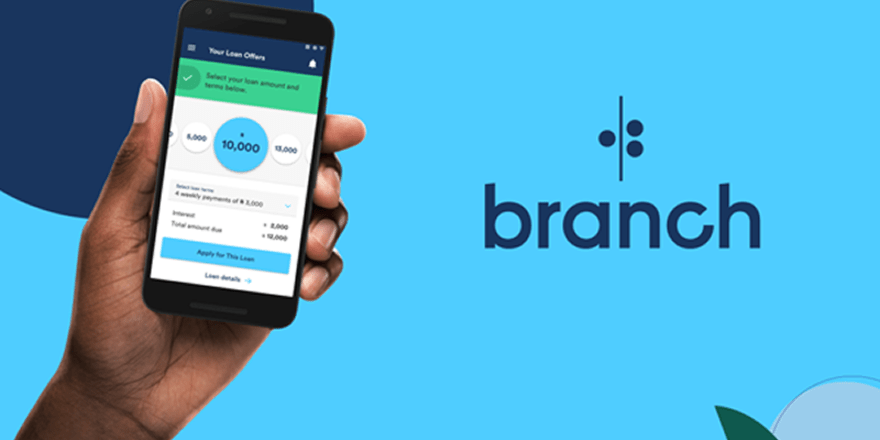 Branch is the fifth on our list of the top 7 best loan apps in Nigeria. This is another fantastic loan app that allows you to receive up to N200,000 in 24 hours.
The loan has a repayment period of 4 to 40 weeks, and the interest rate varies depending on the loan amount and the user's repayment history.
This platform does not require any collateral or papers in order to obtain a loan; all you need is your phone number and a bank verification number.
 You only need to download the app and establish an account. Then you apply for a loan and get it. It's that simple.
Receiving a loan carries a rate of 15 to 34 percent, depending on a number of factors, including the customer's repayment history and the amount borrowed.
Download Branch loan app: Android – iPhone
6. PALM CREDIT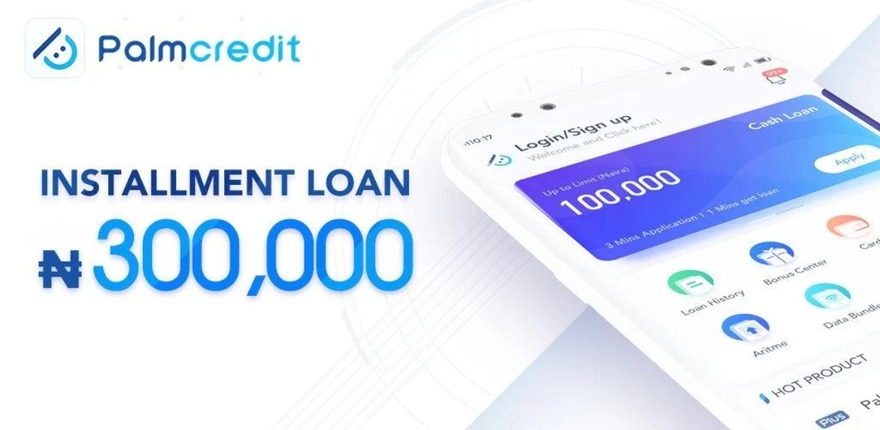 Palm Credit is the next option on our list of the top 5 best loan apps in Nigeria. Borrowing from the Palm Credit app is simple and takes only a few minutes.
It offers a simple service that allows users of the app to obtain fast loans ranging from N2000 to N100,000.
Individuals who are eligible for the loans must be at least 18 years old.
 Users who refer friends to the lending business can also earn prizes through the app.
 Simply, download and install it on your phone. Open the app, create an account, apply for a loan, get approved, and collect your money.
Depending on the tenor and quantity, the interest rate ranges from 14 percent to 24 percent. You can borrow for a period of time ranging from 91 to 180 days.
 You don't require a guarantor or collateral.
Download Palmcredit loan app: Android – iPhone
7. FAIR MONEY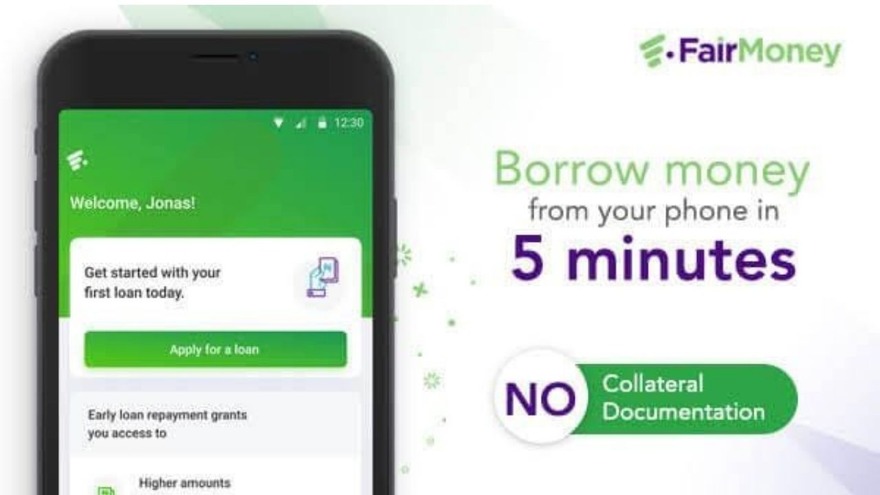 Fair money is the last app on our list of the top 5 best loan apps in Nigeria. It is one of the most popular loans apps on the Google Play Store.
With just a few taps on the FairMoney app, you can acquire a loan of up to 150,000.
 You only need to download and install the app on your phone.
After that, you can sign up using your Facebook account or your phone number and you must respond to a few questions. After that, you will certainly receive a loan offer.
 Accept the offer and the funds will be deposited into your bank account.
They have a variable rate of interest. You have up to three months to repay your loan in installments.
To use their service, go to the Google Play Store and download the FairMoney app. This app isn't available for iPhone, iPad, Windows Phone.
Download Fairmoney loan app: Android – iPhone
You May Also Like >>> How To Make Steady Income With Jumia
Wrap Up
Life's issues is always on the rise, thereby setting many people behind financially. Whether you have a business idea that needs funding or you are going through some hard times, loan apps in Nigeria always come in handy.
Whether you're in financial crisis or you need a business loan, you no longer need to sign any paper work. The top 7 best loan apps in Nigeria where you can receive immediate loan with no collateral have been listed in this article.