Top 5 Best Hotels in Nigeria
When we think of hotels, we usually think of relaxation, vacation, weekend getaways, or a general break from the daily grind.
On a plus side, when we think of top hotels, we think of 24-hour room service, top-notch establishments, luxury stays, vacation destinations, anniversary celebrations, and/or groundbreaking security.
Keeping these in mind, what motivates you to look for a hotel, aside from the immediate need for shelter, could be, budget-friendly, good food, pleasant surroundings, reliable network (and of course free Wifi), clean space, and, most importantly, a smooth booking or customer service? We've set aside time to do the homework for you.
Hotels in Nigeria cost between $27 and $128 per night on average, whereas most vacation rentals cost between $90 and $400 per night for the entire room.
Therefore, hotels in Nigeria, such as Eko Hotel and Suites, Transcorp Hilton Abuja, Sheraton Hotel, and others, will provide you with the best accommodations.
Additionally, Ranking Hotels in Nigeria can be very complicated, because Nigeria houses some of the top hotels in Africa. This article focuses on the Top 5 best hotels in Nigeria
Here, you will be provided with the top five hotels in Nigeria which are listed below;
1. Transcorp Hilton Hotel
2. The Wheatbaker Hotel
3. Eko Hotel and Suites
4. Intercontinental Lagos Hotel
5. Sheraton Hotel
1. Transcorp Hilton Hotel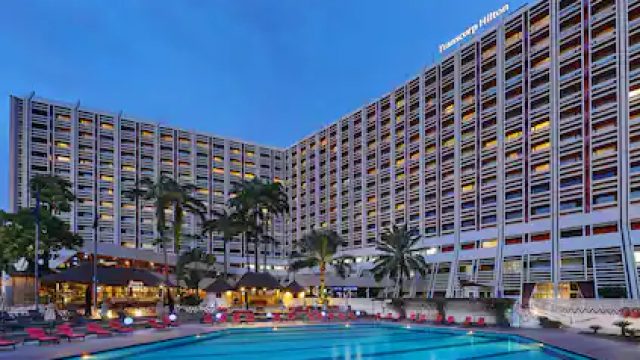 Since 1987, the Transcorp Hilton Hotel has had different owners, titles, and services.
The Transcorp Hilton Hotel is located at 1 Aguiyi Ironsi Street, Maitama, Abuja (10.2 km from the center), and has a sister hotel in Calabar, Cross River State.
The hotel has hosted so many stars in the past and still does so presently that it has fondly coined the name 'home to the stars' due to the continuous influx of celebrities, world-renowned people, and government officials. It also held the inaugural ECOWAS summit.
The hotel provides 670 rooms and suites, making it one of the largest hospitality facilities in Sub-Saharan Africa.
Restaurants, bars, meeting and workplaces, congress halls, swimming pools, badminton, casinos, and lounges all provide their services. You can start making reservations for as little as 95,000 naira per night for a chance to stay at this opulent hotel.
It has a 4.7-star rating and has deservedly earned its spot as the greatest hotel in Nigeria after 30 years of service.
The Transcorp Hilton hotel is owned by the Transnational Corporation of Nigeria.
Visit the Transcorp Hilton Abuja Hotel to see a massive present Abuja has to offer. To ensure optimal comfort, the hotel provides a comprehensive choice of services and amenities, facilities for disabled guests, public Wi-Fi, parking space, room service, and babysitting services are all enlisted in the amenities provided for guests.
Before retiring to your room, take advantage of the hotel's recreational conveniences, which include a fitness center, golf course, outdoor pool, kids club, and tennis courts.
The Transcorp Hilton Abuja Hotel is a great place to stay if you want to explore Abuja or just want to have a nice and relaxed stay.
2. The Wheatbaker Hotel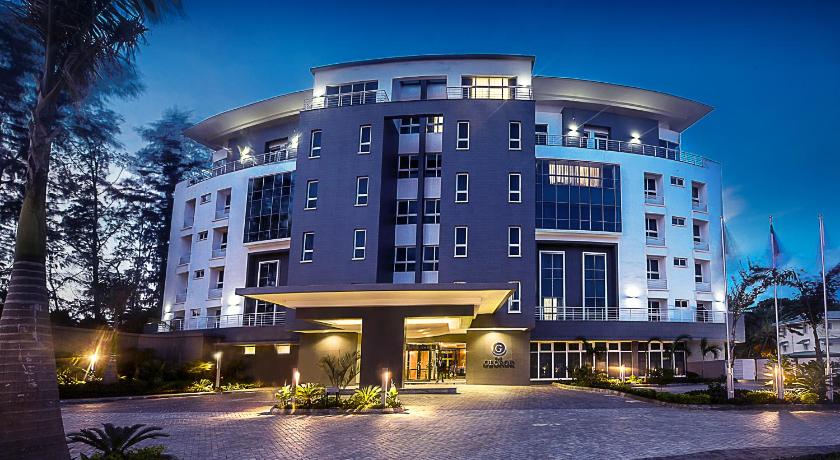 The WheatBaker Hotel, built by Amos Stanley Wynter Shackleford in 1950, is the inspiration for the hotel that exists today. It's at No. 4 Onitolo Road (Old Lawrence Rd) in Ikoyi, Lagos (1.1 km from the center).
Art, food, drinks, gourmet dining, a spa, events, and weddings are all available at the Wheatbaker Hotel.
The luxurious hotel is a top-tier 5-star establishment that prioritizes luxury and customer happiness. The services they provide are as follows: Massages, body treatments, manicures, foot baths, personal trainers, steam rooms, beauty services, fitness classes, locker rooms, body wraps, pedicures, year-round indoor pool, live music/performances, waxing services, body scrubs, fitness, and many other interesting options are available.
If you want a holiday where you can have luxury at your fingertips, this is the place to go.
The Wheatbaker Hotel is a popular choice for tourists, visiting Lagos for sightseeing or a quick layover. The hotel offers a variety of services to make your stay as pleasant as possible.
The hotel's amenities include 24-hour room service, Wi-Fi in public areas, a car park, airport transportation, and a restaurant.
Their accommodation costs up to N125,000 per night. Your money will be well spent. It has a 4.6-star rating.
3. Eko Hotel and Suites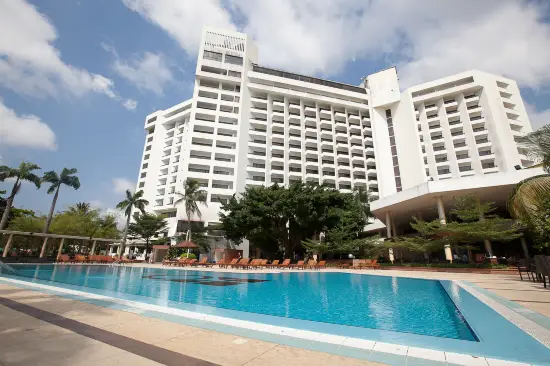 Eko Hotel and Suites was established in 1977 as Èkó Holiday Inn and built on Victoria Island.
It is the largest hotel in Nigeria which was designed in partnership with Americans by architect Oluwole Olumuyiwa. It was renamed Le Meridien Eko Hotel and Suites, Lagos, after that. The Chagoury Group owns and operates L'Hotel Eko Le Meridien
The Eko Hotel and Suites has 825 rooms and suites spread across four multi-story buildings with views of the Atlantic Ocean and the Kuramo Lagoon. The hotel is located near Lagos Island's financial centre, Victoria Island. The Hotel Presidential in Port Harcourt is a sister hotel to Eko Hotels & Suites.
The largest convention centre in Nigeria is located at Eko Hotels & Suites. Concerts, movie premieres, international exhibitions, weddings, conferences, and award ceremonies have all taken place at the hotel. These events are normally held at the Convention Center, which has the capacity to accommodate 6,000 people.
The Eko Hotel and Suites has eight restaurants and bars, Standard room charges start at 86,000 naira per night and continue to rise when rooms and services are enhanced.
In this hotel, Customer's happiness is prioritized, and services are of the highest quality. There's also a bar, a lounge, a tennis court, an exercise center, free parking, airport transfer, high-speed internet, and pools.
They provide accommodations with great views of the ocean, a gorgeous landscape, and a peaceful environment, and they are also wheelchair accessible.
The 4.5-star Eko Hotel and Suites is located near Kuramo Beach on the Gulf of Guinea, the Nigerian National Museum, and Murtala Mohammed Airport.
It's no surprise that it's in the top three of Nigeria's top five hotels.
Within the hotel complex, there are eight restaurants and bars.
The Sky Restaurant & Terrace which is located on the roof of the hotel.
Crossroads Tex-Mex Restaurant and Bar, which serves Mexican cuisine.
1415 Italian Restaurant is located at Eko Signature, which specializes in Italian Fine Dining.
Kuramo Sports Café serves continental and local dishes with a full buffet.
The Red Chinese Restaurant, which is located on the roof behind the Eko Convention Centre,
The Lagoon Breeze Restaurant is also known for its BBQ Fridays.
The Grill "Steakhouse" located at Eko Suites
Calabash Bar, an open-air bar by Kuramo Sports Cafe, offers special cocktails and other beverages.
4. Intercontinental Lagos Hotel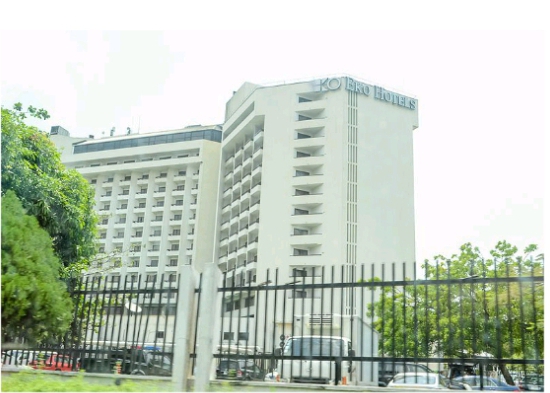 The Inter Continental Lagos Hotel is a popular choice for travelers visiting Lagos for sightseeing or a brief stopover.
The hotel provides all you need for a great night's sleep in addition to a selection of leisure and entertainment options.
The Lagos Intercontinental Hotel is a 5-star hotel located on Victoria Island's Plot 52A, Kofo Abayomi Street, in the heart of Lagos' core business center. The hotel's convenient location makes it perfect for both business and pleasure excursionists.
The Intercontinental Lagos Hotel is the tallest hotel in West Africa, with 23 stories, 358 rooms and suites, and an amazing view of the Atlantic Ocean, Lagos Creek, and the city.
The Murtala Muhammed International Airport is roughly a 28.9-kilometer drive from the hotel. This has some great advantages which include; it's closeness to embassies, museums, leisure centers, retail malls, and local markets.
A 1,400 sqm Grand African Ballroom and six smaller meeting/breakout rooms are available at the hotel.
An infinity pool, a beauty spa, a hair salon, and a health and exercise center are all available on the 5th floor Recreation Center. The gym is open throughout the year. National, continental, and Asian cuisines are served at six different food and beverage locations.
All the necessary amenities are always available, including 24-hour room service, 24-hour check-in, luggage storage, public Wi-Fi, and a restaurant. The rooms' design and decoration provide guests with a warm and welcoming feeling. Wi-Fi, air conditioning, a desk, a minibar, and an executive lounge are all available in most rooms.
5. Sheraton Hotel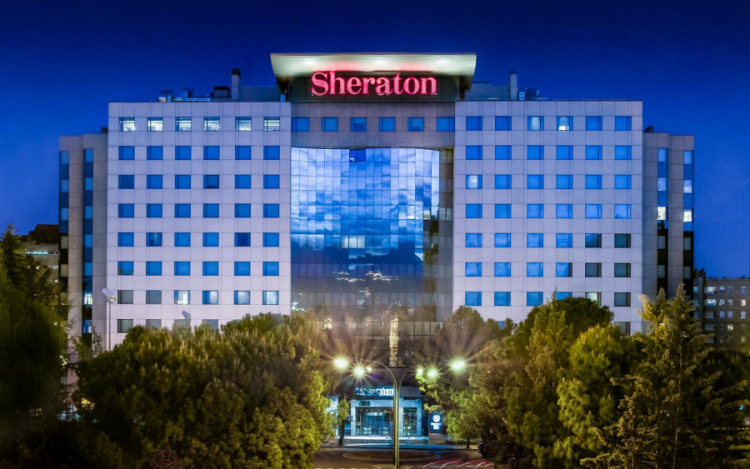 Established in 1985, and built-in Ikeja, Lagos state's capital, it is one of the largest hotels in The Marriott International hotel chain, including the Sheraton Hotel Lagos.
The Sheraton Hotel is located at 30 Mobolaji Bank Anthony Way, 21189 Airport Road, Ikeja, Lagos State, Nigeria.
The hotel consists of 337 guest rooms and suites in a six-story building near the Murtala Muhammed International Airport, the Spar retail mall, and Club Vegas.
There are event spaces, outdoor pools, a gym, and good restaurants available. The hotel's furniture has a delicate feel about it, with simple, beautiful, and comfy designs. On the island, Sheraton Lagos Hotels has a sister property called Four Point by Sheraton.
Sheraton Hotels Lagos' five reasonably sized convention centers have hosted weddings, conferences, and international exhibitions. The largest of the halls, the supper hall, can hold up to 300 people.
A gift shop, wheelchair access, luggage storage, and public Wi-Fi are all available 24 hours a day, seven days a week.
A flat-screen TV, air conditioning, wake-up service, desk, and alarm clock are among the amenities available in the rooms.
There are five restaurants and bars within the hotel complex.
La Giara Italian Restaurant, serves mostly Italian cuisine, wines, and pizzas.
Bar on the Pool TerracePoolside bar and drinking establishment
Pumpkin Leaf
Goodies Pub
Lobby Bar and Lounge
The hotel has a 4.4-star rating and has received positive feedback from previous guests.
Conclusion
To summarize, Nigeria boasts some of the best hotels in Africa. The hotel sector is one of the most important in Nigeria today. Many new hotels are being built, while older hotels are being renovated and new owners are giving them a run for their money. As a result, if you're looking for the best hotels in Nigeria, you can make your home at one of the top five best hotels in Nigeria included in this article.